For 2019, H2o Dreams is beyond thrilled to announce new additions to our team of instructors! We are proud to introduce our newest members, Sarah Ruhlen and Andrew Koch, both on board for the coming season and excited to stoke the fire of H2o Dreams' programs.
Both Andrew and Sarah have been long-time personal friends of H2o Dreams partners, Chris and Lydia Wing.
Sarah Ruhlen has been running rivers since childhood, bringing over 20 years of paddling experience along with photo and video savvy she's worked hard to cultivate in recent history. Her paddling roots are an homage to the roots of paddling itself as she got her start in canoes as an open boater before exploring decked boats and kayaks. As a result of being brought up in a paddling club environment, Sarah has a deep reverence for the community virtue of paddlesports, quality education, and the history of the sport itself. Her passion for capturing the joy of the river extends to her wicked creativity with word and lens as she frequently helps the paddling community tell stories and share experience through a second-hand medium that feels much more personal. H2o Dreams is so excited to have Sarah's heart for paddling and sharp creative mind join our team in the coming year! Sarah will be sharing her gifts with folks on the water through canoe programming, and we are excited to empower Sarah's unique perspective and creativity off the water, too.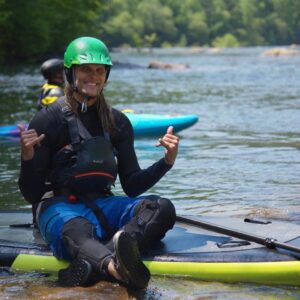 Andrew Koch does a little bit of everything, but he does it all extremely well and with a commitment to mastery. A paddlesports educator with over 12 years of teaching experience, Andrew's expertise is not limited to whitewater kayaking as he has great passion for stand up paddleboarding as well. His deep instructional experience is enriched by his love for travel, with a slew of international trips to surf, SUP, and kayak while learning about cultures far and wide. Andrew is also a certified yoga instructor, having completed a 200-hour yoga teacher training in Thailand, further complementing his paddlesports instruction and bolstering his tools as an educator. Growing up learning to paddle with his brothers in Kentucky, Andrew honors the positive impact that the river has had on him with his love of helping others discover joy and possibility through a myriad of opportunities on the water. Andrew will be working closely with many of H2o Dreams whitewater kayaking programs, but will also be spearheading new SUP programming for our organization in the coming season. His enthusiasm for surf, play, and yoga will undoubtedly pair well with his breadth of experience, and we are thrilled to enable Andrew's gifted instruction in ways that are new and unique to H2o Dreams.
2019 will be an exciting year for H2o Dreams with the addition of such talented, motivated, and creative folks to our already exceptional team. We are ecstatic that the new additions of Sarah and Andrew to H2o Dreams allow us to diversify our programming and reach even more people to share the joy of water in different ways. It remains our mission to empower folks both within our organization and in partnership to use passion and creativity as fuel for meaningful, fulfilling work and river experiences; including Andrew and Sarah in that picture will certainly allow H2o Dreams to continue our mission-driven work in paddlesports. Welcome to the team, Sarah Ruhlen and Andrew Koch!