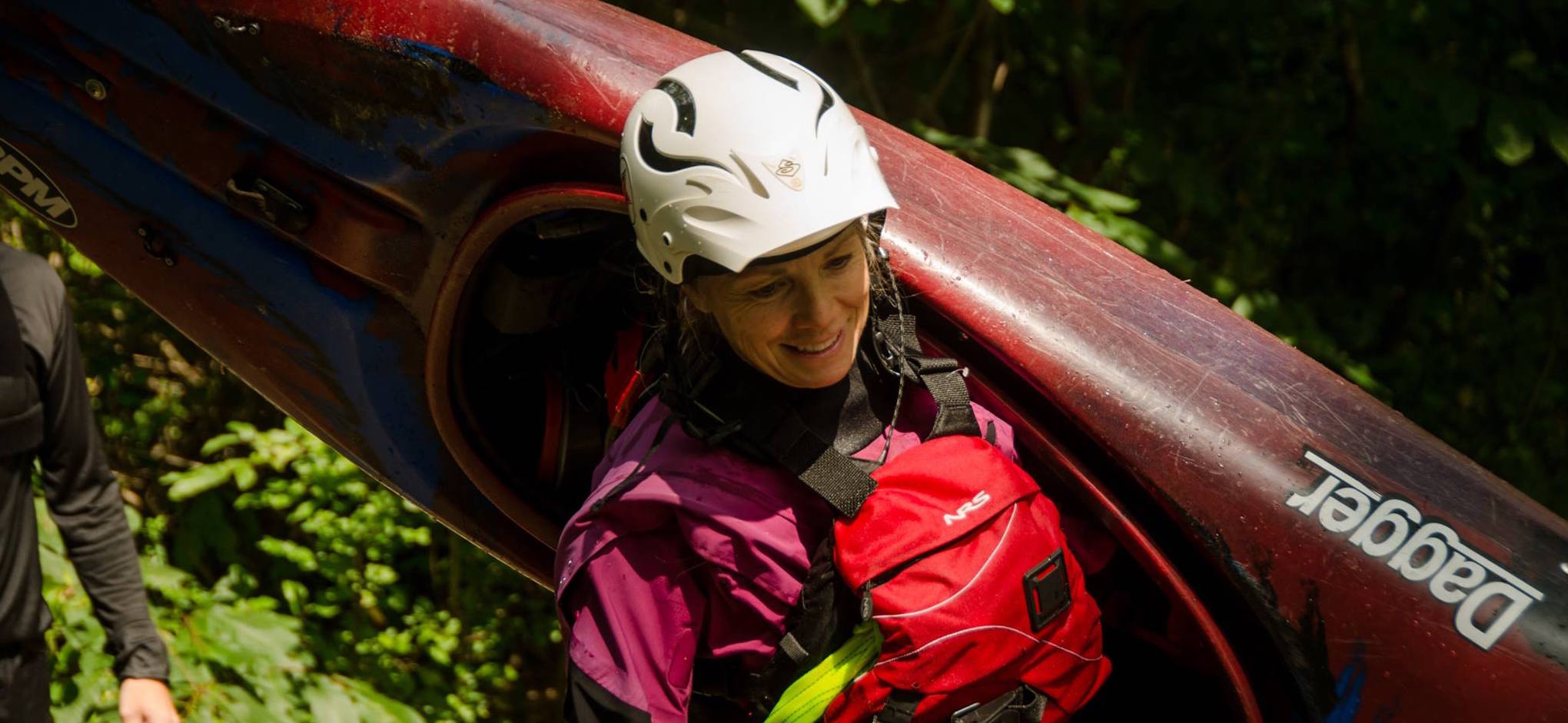 Jennie Penley, administrative extraordinaire for H2o Dreams, is new to the team in 2017. Paddling since 2007, Jennie has been a faithful weekend warrior until relocating to Western North Carolina from Charlotte in 2016. Now with the Asheville playground just out the door, Jennie spends her time kayaking, hiking, gardening and volunteering. Bringing a sharp attention to detail, passion for quality paddling experience, and creativity, Jennie is a welcomed addition to H2o Dreams to help fulfill our mission for building river stewards and providing top-notch instruction. Jennie resides in Laurel Park, North Carolina, with her amazing husband, Chad. In addition to joining H2o Dreams, Jennie is perhaps most excited about the abundance of white squirrels in her new neighborhood.
What draws you to the river?
I am drawn to the river for the unique, therapeutic experience it never fails to deliver; the physical activity, adventure, exploration, fun, refreshment , and the serenity that comes from being immersed in nature.
Why are you excited to be a part of the H2o Dreams Team?
After more than a decade in corporate employment,  I want to be part of an organization whose mission I personally care about, believe in and support.  H2o Dreams is exactly that, and I am ecstatic that I get to work for the folks who share my passion for kayaking, rivers, and the stewardship of our earth.  And, Chris and Lydia are two of the coolest people I know!
What's your favorite thing to do on the water?
I love to play the river with eddy hopping, attainment, and an occasional surf.
If you had to pick one craft to paddle the rest of your life, what would it be?
Definitely a river runner with some length to it. I still love my RPM but my new favorite is my Ripper!
What's your favorite thing to do when you're not on the water?
Running, hiking, gardening – anything I can do outside to keep moving
Describe the moment when you knew you were hooked. 
With no formal instruction, it took me a long time to learn to roll. Even once I could roll in the pool, it always eluded me on the river.  Several months with many swims had me pretty frustrated and discouraged. Then one trip down the Nantahala I flipped on an eddy line and rolled right back up. Amazed to find myself upright , I was elated! I think I heard cheering, it might have been me but more likely the folks who had been chasing my gear all those months!  I now had a "combat" roll and knew I was hooked.
Something you're proud of?  
Kayaked the Middle Fork of the Salmon river in Idaho in 2011… 106 miles with record high river levels. 21 day river expedition trip, kayaking through the Grand Canyon, and I ran Lava Falls!!