What are paddle sports?
The name implies it all: human powered through some sort of "paddle" stroke, whether that be our hands, a single blade or double. It is quiet, simple, and requires you to be an active part of your experience. Paddle sports have their own kind of fitness, and in our opinion, there is no better way to experience the water.
[su_youtube url="https://youtu.be/WnHl1PHct24″]
Types of Water
Inland/Coastal/Open water
This is generally the first experience for most people who have been exposed to any sort of paddle sport. These venues range from inland lakes and reservoirs, flat rivers, tidal marshes, all the way up to the open ocean dealing with tides and currents.
Moving Water
Moving water can take on many forms, but generally this is directly related to easy going rivers where the current is constant and obstacle free. Moving water occurs also when ocean tides are at play or when there is a great deal of wind.
Whitewater
Whitewater occurs in two specific venues: on rivers and in the surf break zone on the ocean, though whitewater is primarily known for being associated with rivers. Whitewater uses an international scale of difficulty from Class I-VI, from easiest to most difficult. Whitewater is created with increased current, obstacles, and gradient and the more those three are increased, the harder the water becomes to navigate.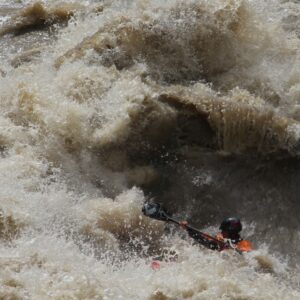 [/col] [col width="1/2″]
Types of Craft
Kayak
A craft where the paddler is seated with their legs in front of them in the cockpit, a kayak uses a double bladed paddle. The kayak is one of the most versatile crafts and has the largest range of specifity in terms of types and design. There are recreational kayaks, sea kayaks, whitewater kayaks, fishing kayaks, and the list goes on. With the kayak comes a great deal of equipment that is needed to be used with it as well so the start up cost can be daunting. However, with kayaking being a popular activity in the US, there is a healthy used equipment market to help ease the cost as you begin. Read more about how to buy used equipment here.
Canoe
Canoes, like kayaks, come in a variety of forms for different applications. The canoeist uses a single blade and traditionally kneels on the hull of the canoe giving him/her the leverage necessary to use a single blade on both sides. Canoeing has a storied tradition in paddle sports and its participants are die-hard. Canoes enable a paddler to haul a great deal of gear so they are popular for multi-day trips where base camping and touring are a priority.
SUP
Where kayaking and canoeing are known for being gear intensive, SUP's (Stand Up Paddleboard) beauty lie in its simplicity. Board, paddle, and the necessary safety equipment are all that is needed. Standing on the board, using a long single bladed paddle, SUP's true challenge lie in balance, though a variety of boards are made that range in ease of balance. With that challenge comes the limitation of what areas you can access, although with the development of new board designs and technique that limitation is being realized as a thing of the past.
Bellyak
What started- literally- as a kayak cut in halve length-wise has evolved into a full blown niche in modern day paddle sports. Somewhere between surfing, SUPing, and hand paddling is the Bellyak, a craft propelled by hand paddling  as you lay on your belly. These crafts can run drops, make ferries, and even surf their way downstream with a wide range of skill and comfort at the helm. The beauty of it all? Accessibility for everyone from those with claustrophobia to folks managing disabilities or physical limitations.
 [/col] [/row]
[row] [col width="1/2″]
Fitness
Core balance
Core balance, or more commonly known as core stability, is the bodily region bounded by the abdominal wall, the pelvis, the lower back and the diaphragm and its ability to stabilize the body during movement.
Core stability is a misunderstood term. Typically, the core is associated with the groups of the abdominal muscles and stability is associated with isometric or static strength. In actuality, however, the core consists of the abdominal muscles groups (transverse abdomens, internal obliques, external obliques, rectus abdomens), hip abductors/ adductors, hip flexors, the pelvic floor, and lumbar spine. In addition, it is the lumbar spine that is primarily responsible for posture and stability providing the strength needed for stability especially utilized in dynamic sports. (Wikipedia)
fWhat does this mean to you? You do not have to be a world class athlete with an eight pack to excel in kayaking. However, it is important that some strength lie in this region to help support your posture and transfer adequate power from your core outward through your body and back.
Flexibility
Just as strength is an important part of equation, your flexibility is equally if not more important to achieve particular ranges of motion that are not normal within day to day activity as well as accessing particular isometrics within your kayak. Isometrics are actions in which muscles are caused to act against each other or against a fixed object, such as the balance in a kayak or the kayak roll. It sounds complicated– and it is- but it does not have to be in terms of accomplishment. Having a good range of motion to start with will help you tremendously from creating bad technique on the front end.
Endurance
Endurance in paddle sports is unique and necessary, and, at the very start, you probably will not have a lot of it. Don't worry too much; it develops pretty quickly. It is important to understand that despite your willingness and desire to learn everything that first day, you have to give it the time to develop which will allow your learning curve to steepen.
 [/col] [col width="1/2″]
Essential Safety Equipment
You can find most equipment second-hand which helps aid your ability to start up in your chosen paddle sport. However, there are certain items you may want to know the specific history of if you choose to buy them used. Personally, I don't ever feel comfortable purchasing a PFD or helmet used as these two items are my two biggest lifelines.
PFD
Personal Floatation Device, or formerly known as a life jacket. PFD's come in a range of types, sizes, and utilities. Check out this great resource on choosing the most appropriate PFD for you.
Helmet (when necessary)
A helmet will typically be used in situations where you will be exposed to rocks on the river or ocean bottom and you are moving swiftly. These helmets are specifically made for water sports so using your bike helmet is not going to be quite adequate for what we are asking from them.
Whistle
A bead-less whistle (so it works when wet) is essential as a tool for communication in various environments, typically reserved for emergency use only. The Fox 40 whistle is a timeless piece of equipment that every paddler should own and carry.
Light
Each state has different regulations and laws by which each paddler need apply. On open water for the time periods of one hour after sunrise and one hour before sunset, a navigation light needs to be on board each craft. Lights that attach to the PFD are a great way to make sure you are staying legal on the water.
Ropes
Ropes are typically reserved for whitewater, but there are "throwables" available for all disciplines of paddle sports. A rope can actually be dangerous in current in untrained hands and can quickly become a hazard if not used with prejudice. It is highly recommended you take a basic safety course or a swift water rescue course if you have not had previous experience. Read more about throw ropes here.
Knife
If you carry a rope, you should carry an appropriate rope knife as well. Here is our knife of choice.
Layers
Check out this great resource on the NRS website on how to adequately prepare for cold water exposure.
Footwear
It cannot be overstated that footwear is your most critical piece of safety equipment aside from your helmet and PFD. However, if you have a good pair of sticky rubber shoes that fit well in your kayak and provide the necessary support to walk in adverse conditions, then there is a good chance you will not ever have to use your helmet or PFD while out on land.
 [/col] [/row]