[row] [col width="1/2″]I want to preface by saying that I absolutely think there is a place for a "good" full face in the whitewater kayak market. Some of my thoughts on why you would use one to supplant skill, well, that's an entirely different conversation altogether and maybe one that we should all have with ourselves. Obviously, this new conversation stems from my last week's thoughts... which by the way many folks missed my point entirely of how preventable of an accident my whole tooth breaking scenario was. By that I mean, if I had let the boat go, or even better, helped create an environment of safety that was more predictable we would never have had to talk about this. But I digress.
The full-face. I think our whitewater industry half-baked an idea that is being accomplished at a much greater capacity in other sports. I think our current marketplace continues to sell these terrible products because, well, they're selling and nobody is demanding anything better. It's preying on people's fears and it works. I might also add, it creates a culture of fear within our sport as well. When was the last time you paddled well scared?
I don't have the solution, but I did start doing a bit of research to maybe open up a can of worms and hopefully get us all a better product down the road. I must also state, I do not think our current helmets are the solution and some are downright dangerous. But let's take a look at a few things I want to note below.
Every substantial and permanent full-face helmet in any other sport, aside from football which uses a cage and a different harness, has sideburns. The sideburns are the padding that provides additional padding between your face and the mask. It also helps ensure a better fit overall.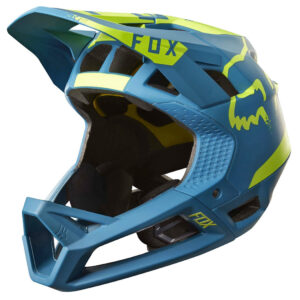 I understand that there are challenges with breathing and communicating with a full-face especially in whitewater which is why I have found some of these other designs such as the Fox Proframe above intriguing and it could potentially offer advantages that our current setups do not.
[/col] [col width="1/2″]
[st_video video="https://youtu.be/rRmWBp65gbo?t=1m44s" ratio="16:9″ width="" height=""]
[st_divider divider_type="border" height="" margin_top="" margin_bottom=""]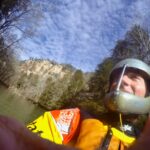 A whitewater full-face needs to include a vertical bar. I hate to say it, the gnar bar is definitely advantageous as paddles, rocks, other people's bows, all can make it through the large openings in many of the current full face models. A bar will certainly add the additional protection. Could this be optional? Sure…but why are you wearing the full face if you don't want maximum coverage?
Another harness system should be considered in place of the standard kayak helmet harness. Not only should the harness keep the helmet from riding fore and aft, left and right, but also forward and backward. When pressure is applied to full-face chin/mouth guard, it causes the helmet to roll forward dramatically which in turn causes your face to be exposed. That defeats the purpose of the helmet!! Some of this would be alleviated with the sideburn padding, but additions will need to be made to the chassis to keep the helmet in place.
This is all just some food for thought. I don't have the solution, nor do I have the time to develop one. I currently operate within the philosophy that I maintain a skill level to protect myself. This includes diligence in shallow water rolling. But, as was the case over a week ago, that can go only so far. Finding myself in that position, to begin with, was an avoidable one, and I choose to run whitewater that I can maintain (relative) control over my body to protect myself. Would I consider wearing one if there was an option that met the above criteria, sure.
So, what are your thoughts? Would you still wear one of our current options with their clear deficits in design? Do you have a story that could convince me otherwise? I am without a doubt certain that a full-face has saved someone else's tooth before, but I have also seen catastrophic face damage even with one on.[/col] [/row]
Some other cool stuff:
[st_video video="https://youtu.be/wc2gf85TffQ" ratio="16:9″ width="" height=""]
[st_divider divider_type="border" height="" margin_top="" margin_bottom=""]
[st_video video="https://youtu.be/XWH13HUz4mg" ratio="16:9″ width="" height=""]